Tell Us About Your Plumbing Experience
At Jeff Smith Plumbing, we enjoy working with our customers to ensure great work and a positive experience. We'd love to hear any of your experiences or concerns, so please feel free to contact us by phone or sending us an email today.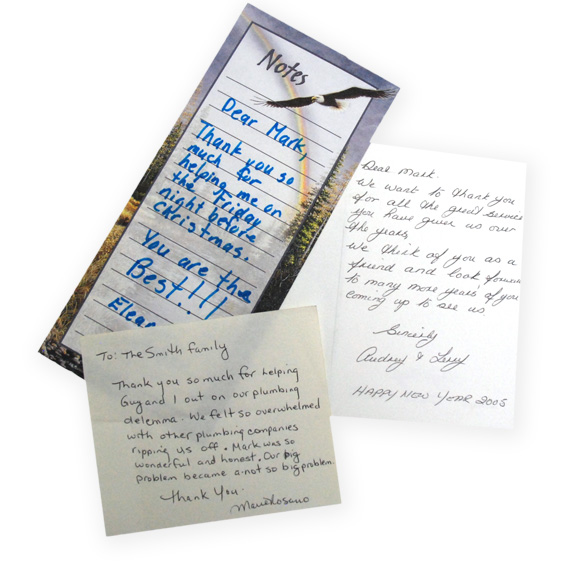 Kind Nature
Mark Smith, of Jeff Smith Plumbing, has been a trade associate of our Construction Co. for over 35 years, meeting our plumbing requirements as needed. Without question, Mark is very knowledgeable regarding all aspects of the plumbing trade and along with his kind nature has shown to be a valuable asset on our projects. Definitely recommend Mark to provide service for all plumbing requirements and I might add that Mark's work ethics are above expectations.
-- I.J.
Knowledgeable, Courteous & Professional
For over 30 years, we have trusted Jeff Smith Plumbing to look after our apartment buildings. The staff at Jeff Smith Plumbing are knowledgeable, courteous and professional. We continue to recommend him to anyone looking for a plumber as he gets the job done right, quickly and efficiently every time.
-- Kelly V.
Fair & Honest
Our family has known Mark Smith for many years and we have always appreciated that he is not only extremely knowledgeable, but fair and honest to deal with. His vast experience with many types of structures and situations is a great asset. As the owner of a historic home, I am especially grateful that Mark will take the time to find solutions that respect the integrity of the structure.
-- Ruth H
Very Reliable
Jeff Smith Plumbing has taken care of my plumbing needs for the last 17 years and has always done great work and has been very reliable. I would definitely recommend contacting them if you need a Plumber.
-- Lori S.
Aurora, Ontario
A Master Plumber
You can just tell when you meet Mark that he is very kind and a pleasure to welcome into any family home. Mark has 60+ years of experience with the people of York Region and it shows. I recommend calling Jeff Smith Plumbing first. A true master plumber!
--Kevin M.